There is something exceptional for the classical music enthusiasts, i.e. annual concerts of classical music:
The International Festival "Wratislavia Cantans" – a festival "without borders" presenting cultures of various nations in the best artistic performance
The International Bach Festival – the festival is accompanied with the Bach Academy as a part of which young performers improve their skills through a direct contact with the best performers. Thanks to this event Świdnica constitutes an important place on the map of European Baroque music (in 2007 John Eliot Gardier was a special guest)
Świdnica Days of Chamber Music – devoted to classical music, as part of the event there are held concerts and recitals. Its idea is to present works of outstanding composers from various periods in the interpretations of excellent modern musicians
Świdnica International Jazz Nights with the participation of leading Polish and international jazz musicians
Open Theatre Festival – it is an event tying together and presenting various professional and amateur drama forms. The Festival has been organized since 1998, always in July.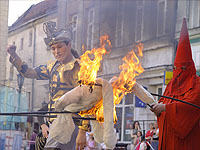 Open Theatre Festival (photo by. J. Gaszyński)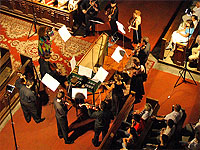 The International Bach Festival in Church of Peace (photo by J. Gaszyński)